I often get asked about our racks, where we bought them, how much they cost, what material are they made of, etc, etc? You can always build them from Melamine, which can be bought at any HomeDepot or Lowes. These racks for example cost us appx $150 w/heat and housed 28/12qt tubs or 14/28qt tubs.
Problem with Melamine is that it weighs a TON and if it gets wet, it will expand and eventually rot. Those above lasted me a good 4-5yrs and were like new when I replaced them.
Today we make all our racks using the same material most cage and rack companies use, XPVC. We initially did our homework on the material used on our Boaphile cages called XPVC, along with other Plastics such as HDPE. Both in various thickness from 1/4″ to 1/2″. We decided based on weight, price and usage and we decided that we would go with the 1/2″ XPVC.
We did start out with a 1/4″ thick XPVC sheet as shown above, but prefer the thicker 1/2″ sheets. We found three local suppliers of XPVC. We designed and order ed four sheets of 1/4″ XPVC at a cost of $30/sheet. The distributor charged us $5.00 to cut the sheets to our dimensions. This rack above for example is built of two racks stacked, each rack holds 20/12qt tubs or 10/28qt tubs, or a mixture of the two. A total of 40/12qt tubs or 20/28qt tubs or a mixture of both. The total cost to build this rack stack was roughly $230 w/heat which we used 3″ Flexwatt as belly heat in each level. This was our first XPVC rack and took a total of 3hrs to assemble and set up.
The only learning experience we took from the first rack that we would do differently going forward. Would be the use of 1/2″ thick PVC instead of the 1/4″ PVC. The 1/4″ IMO left little room for error Vs the 1/2″ PVC plus the 1/2″ is stronger.
Another decision was to build them in smaller sections that are easy enough for one person to move and manage. The wider/larger racks are great and cost a little less to build at Vs numerous smaller ones, but when it comes time to move, you'll be glad you have 10 small racks Vs a single wall lined rack…lol I've seen people line whole walls with a single 12′ x 10′ rack. Then have to take the whole thing apart to move it and get it out the door!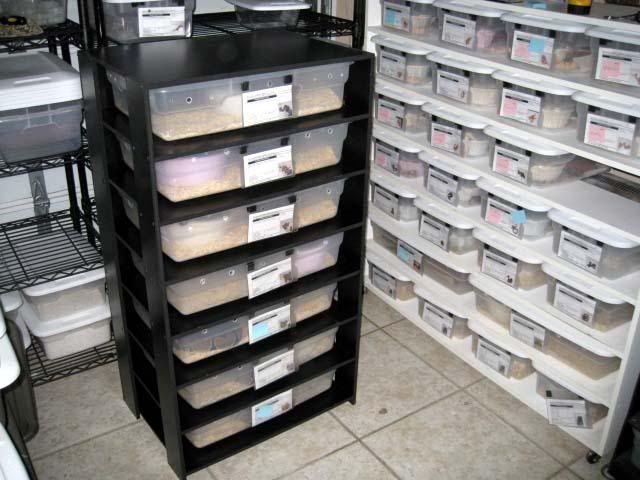 Here we have a simple baby, yearling, sub-adult Sterilite Rack that can be used with 12qt or 28qt tubs. We decided for these racks to also adapt an open air design to lower costs, as we were using the 1/2″ XPVC Vs the 1/4″ material.
This Rack can hold 14/12qt tubs or 7/28qt tubs and cost appx $128 w/heat using 3″ Flexwatt as belly heat per level! Perfect size, lightweight, utilizes exactly ONE 4X8 sheet of XPVC. You can also modify the specs to fit 15qt/32qt tubs, as well as make it a closed rack, if you prefer.
Sterilite 12qt/28qt Rack specs:
8 pieces = 24.00 X 17.00
6 pieces = 4.00 X 45.00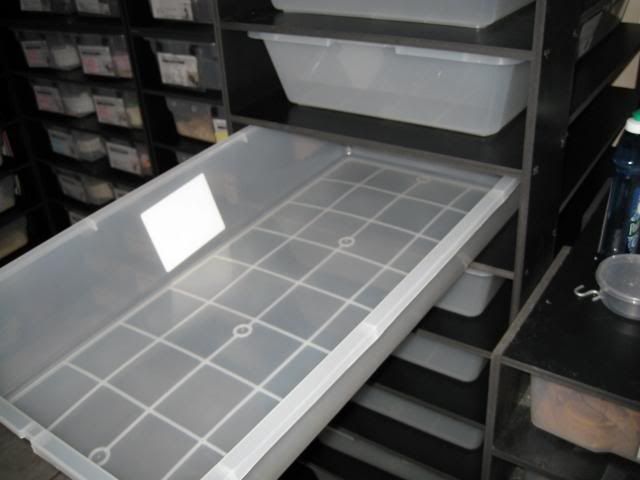 Here the Iris CB70 tub rack. This is the tub that's usually used for adult female Ball pythons that are too big to house in 28/32qt tubs and need the extra space. I wish I had taken more pics, but had it built by the time I remembered the camera! I'll be sure and snap some step by step pics of the assembly next time!
CB70 tubs measure roughly 33″ X 18″. This rack holds 9 CB70 tubs and requires two 4X8 sheets. Costs was about $225/with heat and we use 11″ Flexwatt as belly heat to heat 12″ at the back of each tub. Time it took to assemble was about 1hr. Same gig, place your order with a supplier, they pre-cut everything for you and all you have to do is take it home and assemble at your leisure.
Iris CB70 Rack Specs:
34.00 X 18.750 = 10 pieces
56.00 X 6.00 = 4 pieces
2.0 X 19.00 = 6 pieces
On average you can find the 1/4″ thickness XPVC from $28-$50 ($28-$35 being the average price range). The 1/2″ XPVC can cost you between $90-$150 per 4X8 sheet ($90-$120 being the average price range). If you're being charged higher than $120…Look elsewhere! Also ask by Brand of XPVC?! Certain Brands cost more than others and whether they are imported or made in the USA. Various brands of XPVC such as Sintra, Komatex, Jain, etc, etc. They are all basically the same thing and will work just as well for this application. XPVC also comes in many different colors to choose from! Black and white are the standards, but they also carry red, blue, yellow, green, charcoal, etc, etc. Colored sheets cost a bit more than the standards due to supply and demand.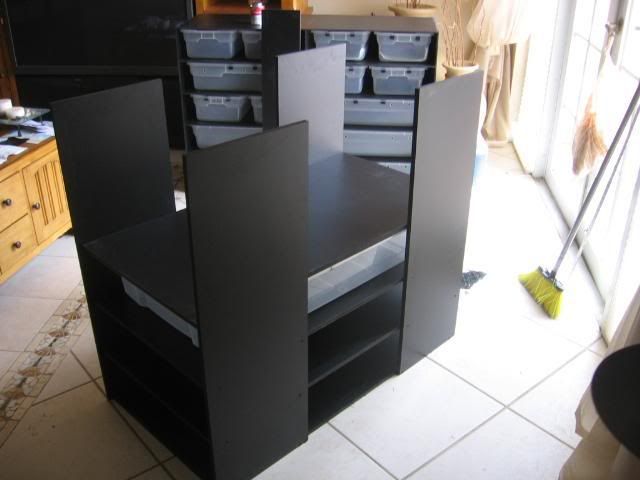 Here we have the largest tubs we use per racks and they are Iris CB110 tubs. These are roughly 35″ X 21″ and are perfect for adult male Boas and sub-adult female Boas, also these are great for the biggest of female Ball Pythons.
This rack houses five CB110 tubs and cost appx $225.00/with heat to build. Once again we used 1/2″ XPVC and this rack took up two 4X8 sheets. We use 11″ Flexwatt as belly heat under 12″ to the back of each tub.
Iris CB110 Rack Specs:
41.00 X 21.00 = 6 pieces
36.250 X 12.00 = 4 pieces
36.250 X 7.00 = 2 pieces
36.250 X 8.00 = 1 piece
These are the basic three rack designs we use for new born snakes, to yearlings/sub-adults to adults of certain species. I'll be adding a 6qt 20 tub rack design and specs, costing about $125/w heat and uploading those pics and info soon. I thought of writing these DIY sheets after the fact, but I'll write up step by step instructions for these racks. Keep in mind that measurements will vary based on your tubs! Same as cost based on what you negotiate and pay for materials in your area. You may pay the same, a little more, or even less than what I have above.
All these racks can be modified to your preference, or tub specifications, limitations or your imagination. We try to utilize a complete sheet of XPVC whenever possible per rack to minimize waste. Sometimes it is best to utilize two complete sheets to get the most bang for your buck! A good example of that is with the larger Iris tubs.
We do not sell racks, or materials to build racks. This DIY post is simply to share information and for those who have asked us about our racks and information on materials used.
DIY anything is not for everyone and there are great options for those who prefer a ready made service and don't mind paying the higher price tag that comes with that service. You have numerous choices on the net where companies such as Boaphile, Animal Plastics, Proline, Reptile Basics and others will gladly build, sell and ship you a complete rack already assembled and set to use, or in most cases they will require assembly due to shipping and handling. If you are a DIY'er at heart, building your own racks out of XPVC is super easy! No special tools required! If you can screw together piece A to piece B, you can build a rack! DIY eliminates the waiting for delivery and above all, DIY will save you $$!
The Melamine racks above that housed 28/12qt tubs cost about $150-$160 w/heat using 3″ flexwatt as belly heat. That comes to roughly $6 per tub on 12qt tubs for example. Compare this $6/per tub, to about $9 per tub for the 1/2″ XPVC DIY rack Vs $20-$35/per tub on ordering a similar rack that may, or may not include tubs, and may or may not require assembly. Cost per tub can range from $2.00-$3.00/12-15qt at any Wal-Mart or Target. On the CB70 tub rack for example: The 9 CB70 tub DIY rack above cost me $25/per tub w/heat Vs $60-$95 you may pay when ordering a CB70 rack.
Here are two Plastic Distributors we use in our area. Both Piedmont and Laird have numerous locations within the USA. These are by no means the only ones that supply XPVC sheets and we suggest strongly that you shop around for any and all Plastics Distributors local to you for the best price and service.
Piedmont Plastics:
http://www.piedmontplastics.com/
Laird Plastics:
http://www.lairdplastics.com/
Good luck and happy building!